State-of-the-art Auto Detailing
Premium Car Detailing
Dana Point
Why You Should Visit Detail King Express
Detail King Express is a professional car detailing and ceramic coating service company. We have a fully-equipped state-of-the-art auto detailing shop in San Clemente and serve Orange County residents. Our trained experts are certified by the Detail King Auto Detailing Training Institute. We are careful with this since we know having a professionally trained technician handling your car is essential.
Detail King Express first opened its physical location in San Clemente in 2021. Since then, the company's mission has been to offer in-depth detailing and paint correction solutions. That is not limited to ceramic coatings and a host of other services. Thanks to our founder Zach who takes great pride in his experience and dedication to this industry.
Zach and his team of certified detailers specialize in high-end vehicles. Whether it is a Rolls Royce, Ferrari, Lamborghini, Jaguar Tesla, or any other modern vehicle in between, they can help. The professionals offer expert buffing, polishing, paint correction, and paint protection services. Not only that, but we are also the go-to experts for your interior, cleaning, detailing, and odor removal solutions.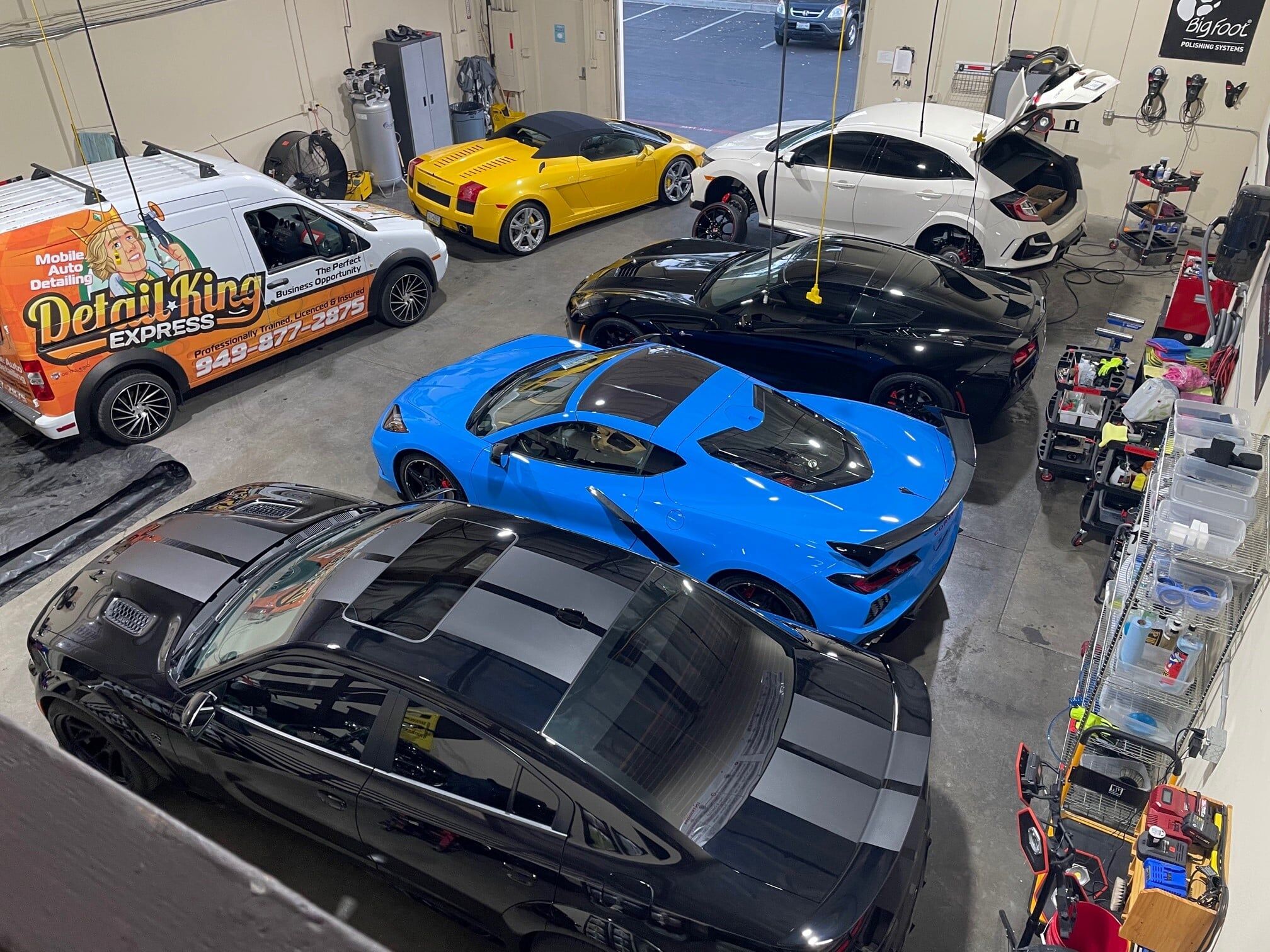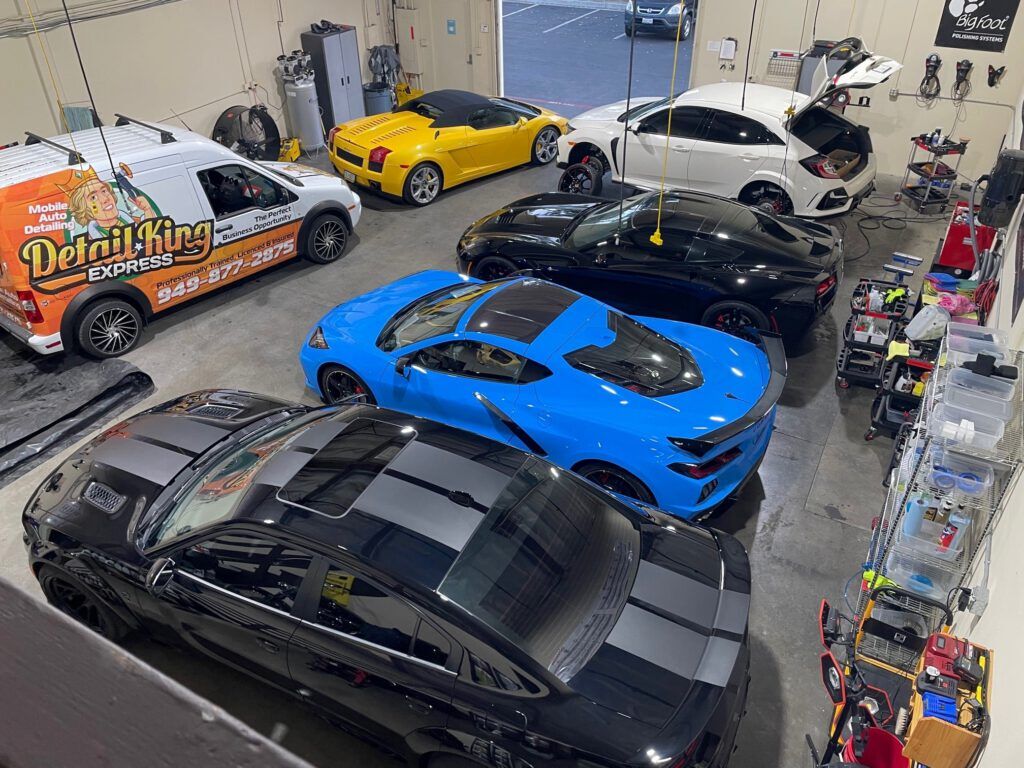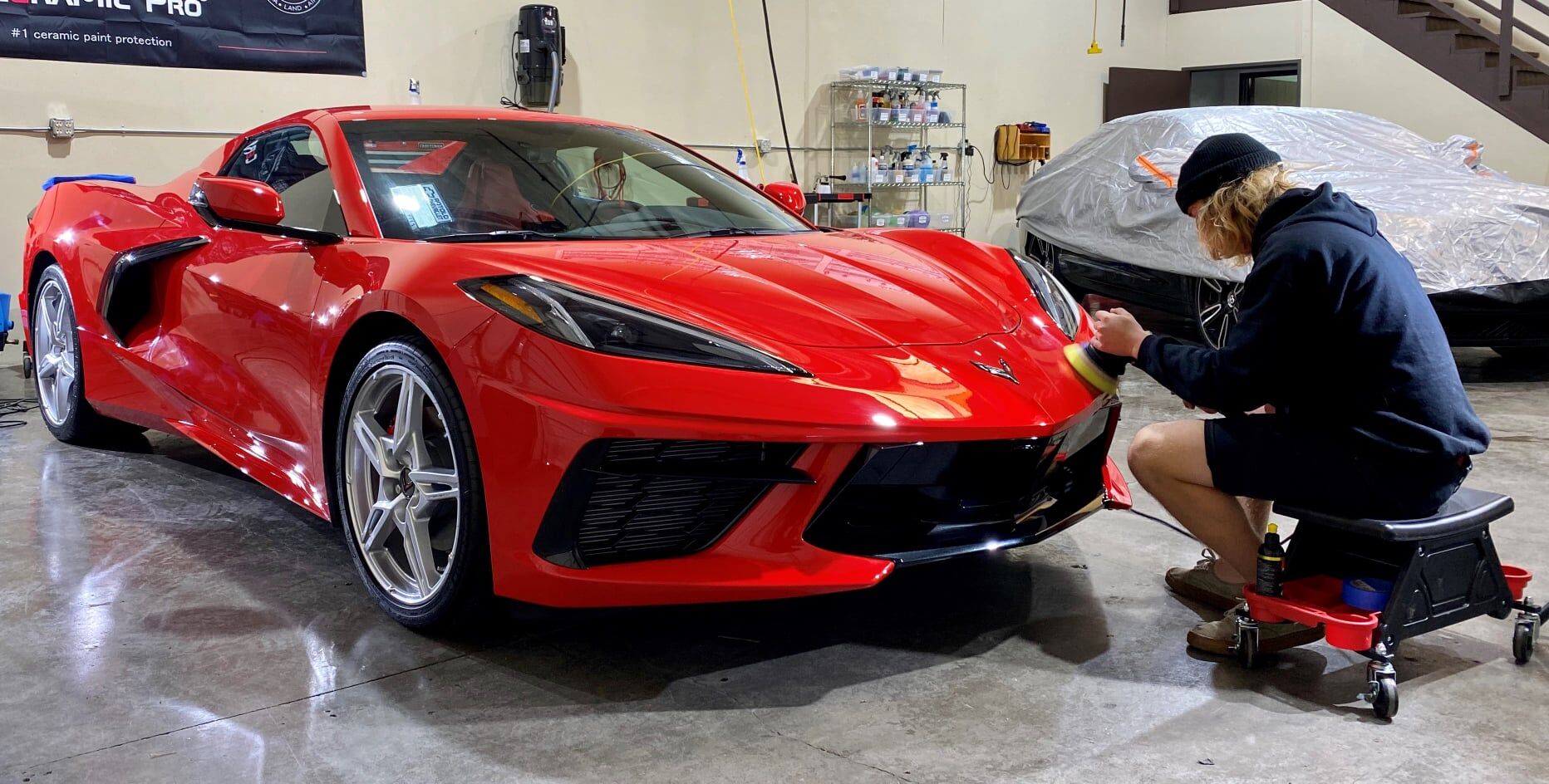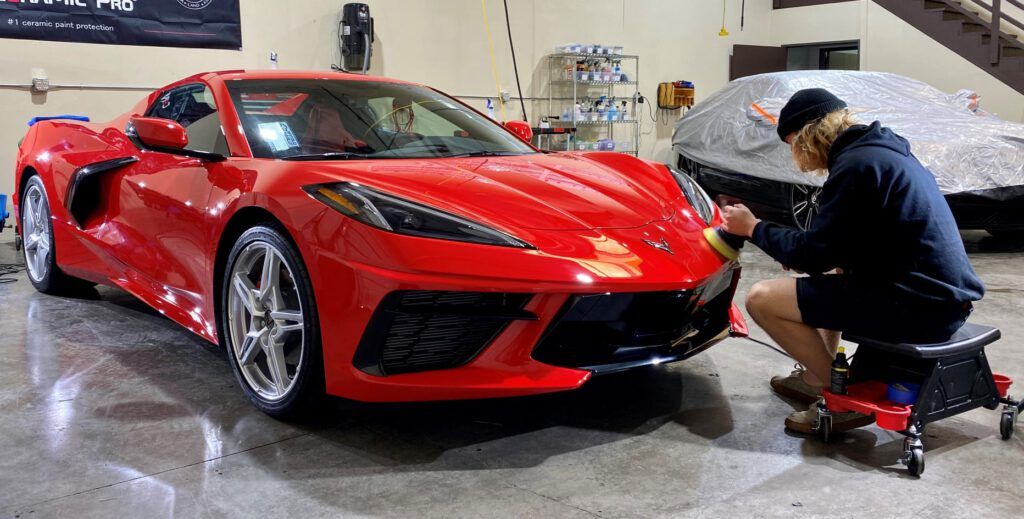 We are also authorized ceramic pro coatings installers and look forward to providing paint protection film solutions soon. Zach is a passionate entrepreneur and innovator always seeking to provide top-notch services. Beyond his dedication to servicing vehicles, he also uses his passion for training new auto detailing entrepreneurs.
Together with his business partner Nick Vacco, they conduct training courses every weekend throughout the month. They teach people how to detail a car and other related services professionally. They also teach people how to operate and grow a successful car detailing Dana Point business.
Professional PPF / CLEAR BRA in Dana Point
If you want to add paint protection film to your car, Detail King Express will help. But why should you consider a paint protection film? Often, this is a service package that protects your car from the outside elements. And when correctly done, not even rock chips, scratches, dirt, and debris stand a chance with your car. For excellent results, you need highly trained, experienced experts, and Detail King Express has the answers.
While there are many options of protection films you can choose from, KAVACA paint protection films are the top-rated choices. KAVACA PPF is a high-performance aliphatic polyurethane film. It is specifically designed to protect painted surfaces from abrasion, corrosion, and other environmental fallouts. With this product, you can rest assured that your car is protected against any form of element.
We have established a solid reputation for offering the best KAVACA paint protection film solutions. Our expert installers at Detail King Express will customize the film and apply it perfectly to your vehicle. Our custom solutions include KAVACA instant Healing Paint Protection Film and KAVACA Matte PPF.
Regardless of the option that works for your car and budget, know that we will deliver the best outcome. Kindly contact us today for more details on KAVACA paint protection and film and the vast difference it can make in your car. Our founder Zach is passionate and experienced enough to help you choose what will work best in your car.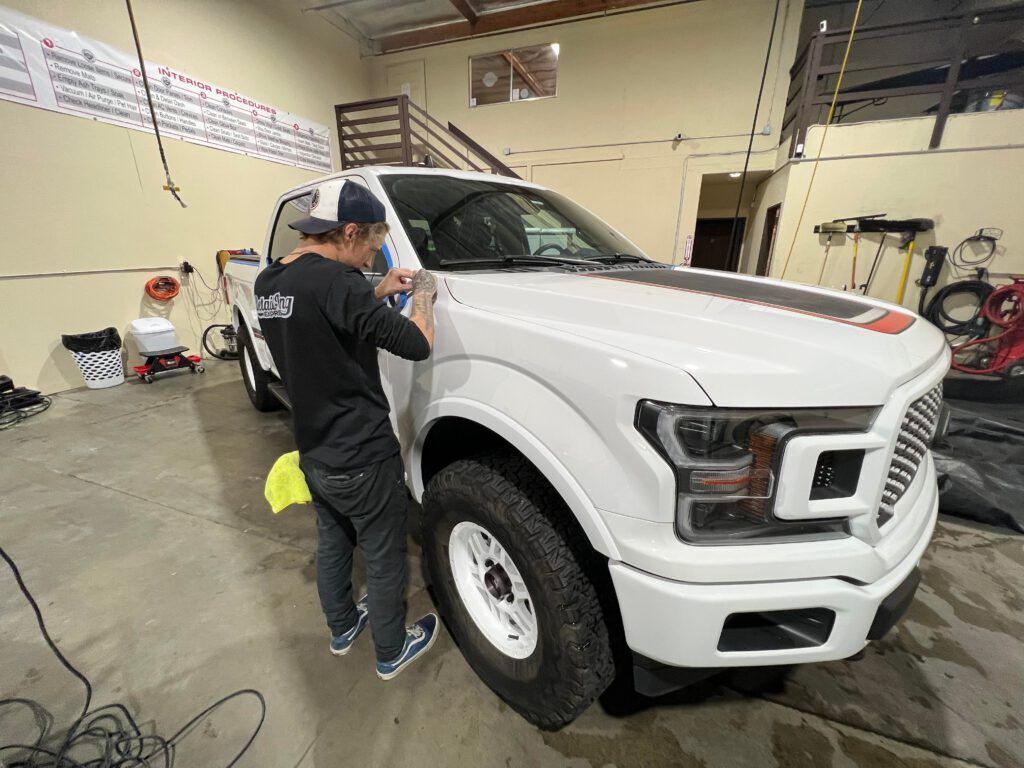 what our customers say about us
Experienced ceramic pro Dana Point
When it comes to ceramic pro coating services, Detail King Express is the only provider you can rely on for professional service. We are undisputed experts in paint protection and correction service. So, when you are looking for ceramic pro coating services, we will install and apply them accordingly.
Our team of professionals is committed to providing high-quality service that will make you proud and at ease whem leaving your vehicle with us. We only use the very best products the detailing industry offers, which means you can trust us with all your ceramic pro coating needs. With many years of combined experience, our team has the knowledge and skills to ensure a seamless and excellent service.
Ceramic Pro only uses state-of-the-art nanotechnology to provide a protective coating to your vehicle's exterior surfaces. Our coatings will protect your paint and other surfaces from staining, UV damage, bugs, dirt, and debris and has hydrophobic properties making your vehicle quick and easy to clean. Ceramic Pro is the leader in paint protection in the automotive industry, and here at Detail King Express of San Clemente, we've been working with them for years. Our certified technicians are experts at applying and installing Ceramic Pro coatings.
If you've been searching for the best paint protection Orange County has to offer; then Ceramic Pro San Clemente should be your preferred choice. Detail King Express offers several Ceramic Pro packages, including Ceramic Pro Sport, our entry-level package and comes with a six-month warranty, Ceramic Pro Bronze, which includes a 2-year warranty, Ceramic Pro Silver, which comes with a 5-year and Ceramic Pro Gold that includes a lifetime warranty.
WHAT CERAMIC PRO SERVICES IN
Dana Point DO WE OFFER?
Pristine Paint Correction Dana Point
What is paint correction? This is a question most people ask, and we have the answers right here. Paint correction is the process of removing minor scratches and imperfections found in the vehicles' clear coats. It is not uncommon that even new cars will have some imperfect clear coat. And that is where the expertise of our professionals at Detail King Express will come in handy.
We are your go-to experts in paint correction committed to professional, quality, and timely service. In Orange County and surrounding areas, we have become highly recommended paint correction and paint protection services providers. The truth is that your car's paint will suffer the wrath of environmental hazards and elements. With time, that glossy finish will become dull and covered in swirls.
You don't have to worry, though, since Detail King Express has your back. This paint correction is all you need if you are looking for more than a simple exterior touch. This technique will leave your car looking like it is new once again. But like other services, the process should be impeccable and handled by highly trained professionals. '
Ultimately, you can count on our team to do an excellent job removing the defects and flows. With that, you can rest assured that your investment will be well taken care of. Yet, we also recommend that you consider additional services to ensure long-lasting results. Ceramic Pro coating or clear bra film is the best solution you can consider here. Please get in touch with us today for all your paint correction needs, and we shall be glad to help.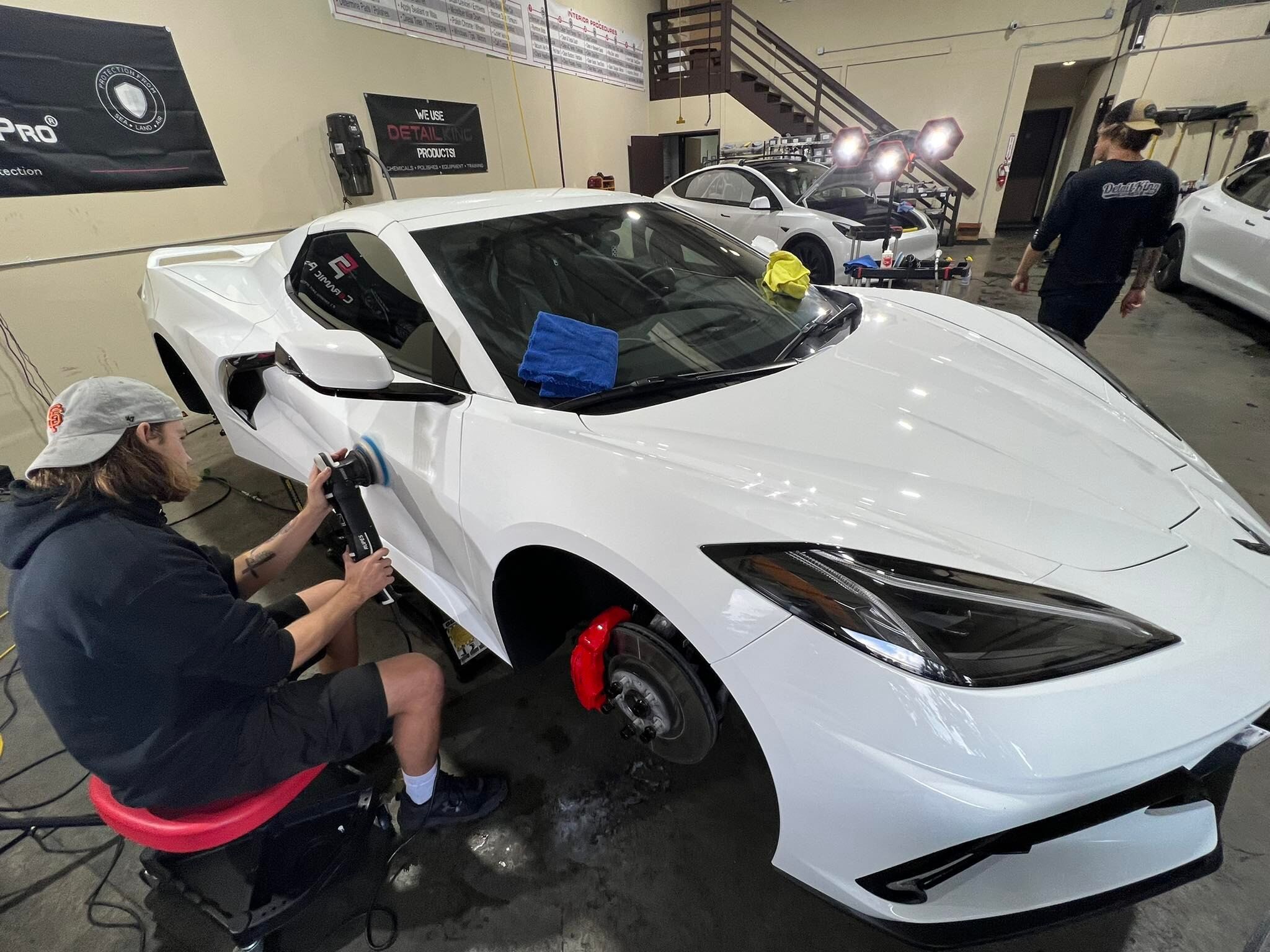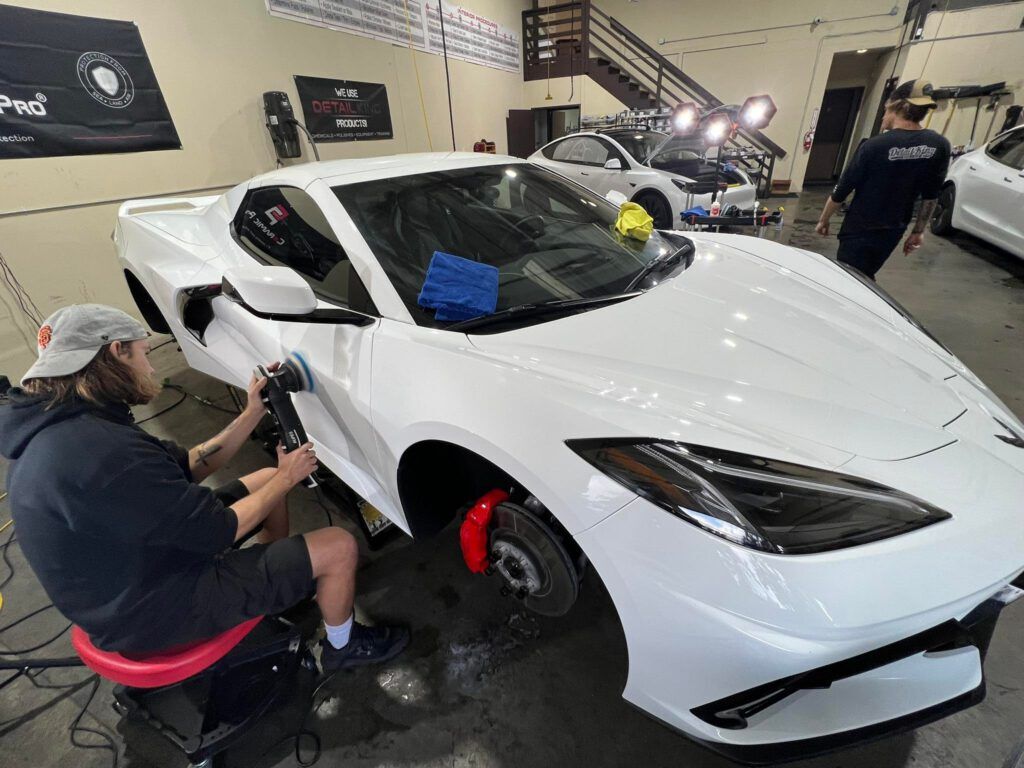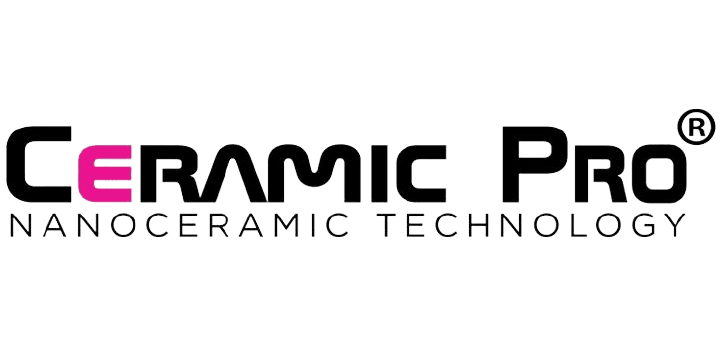 Protect the things in life
that you care about.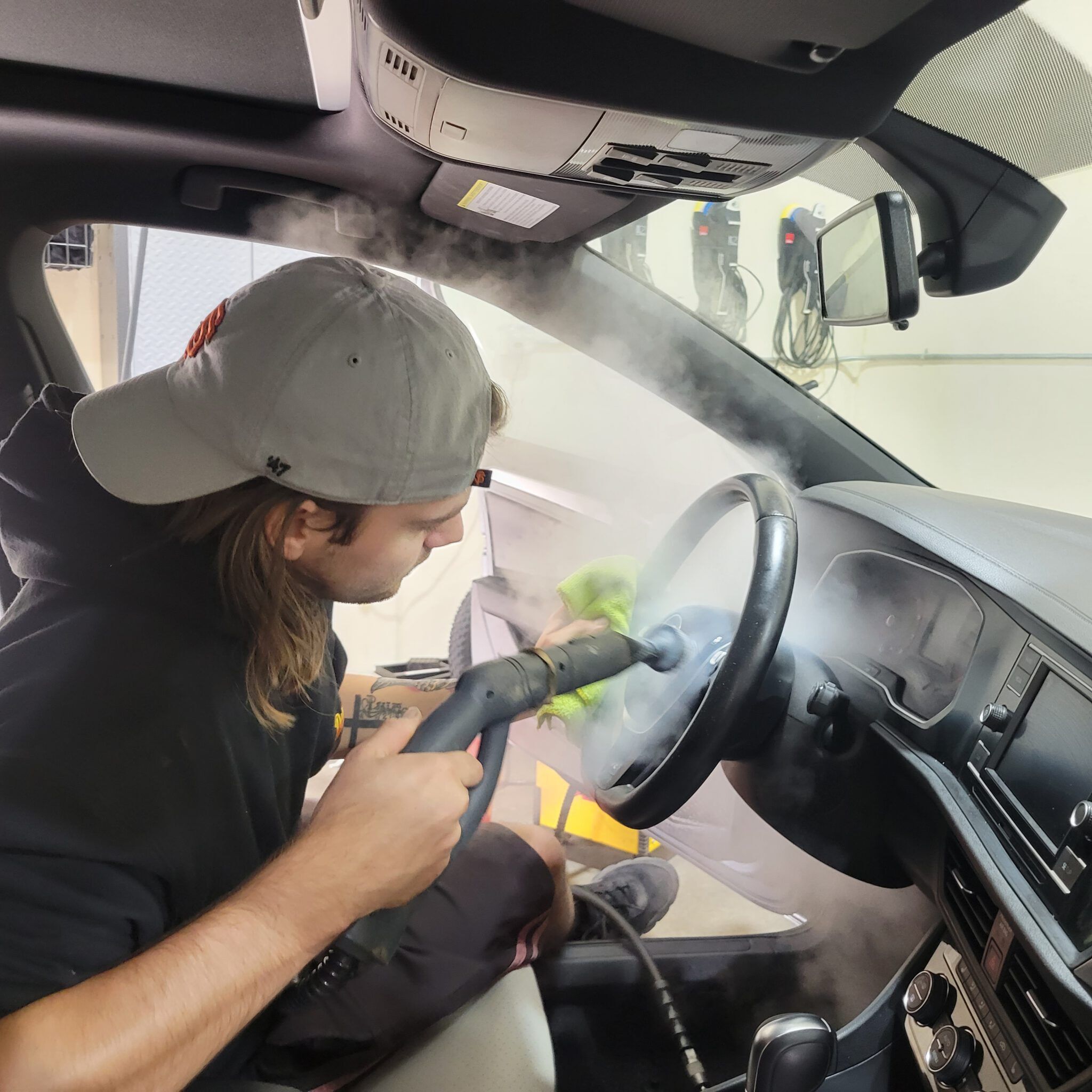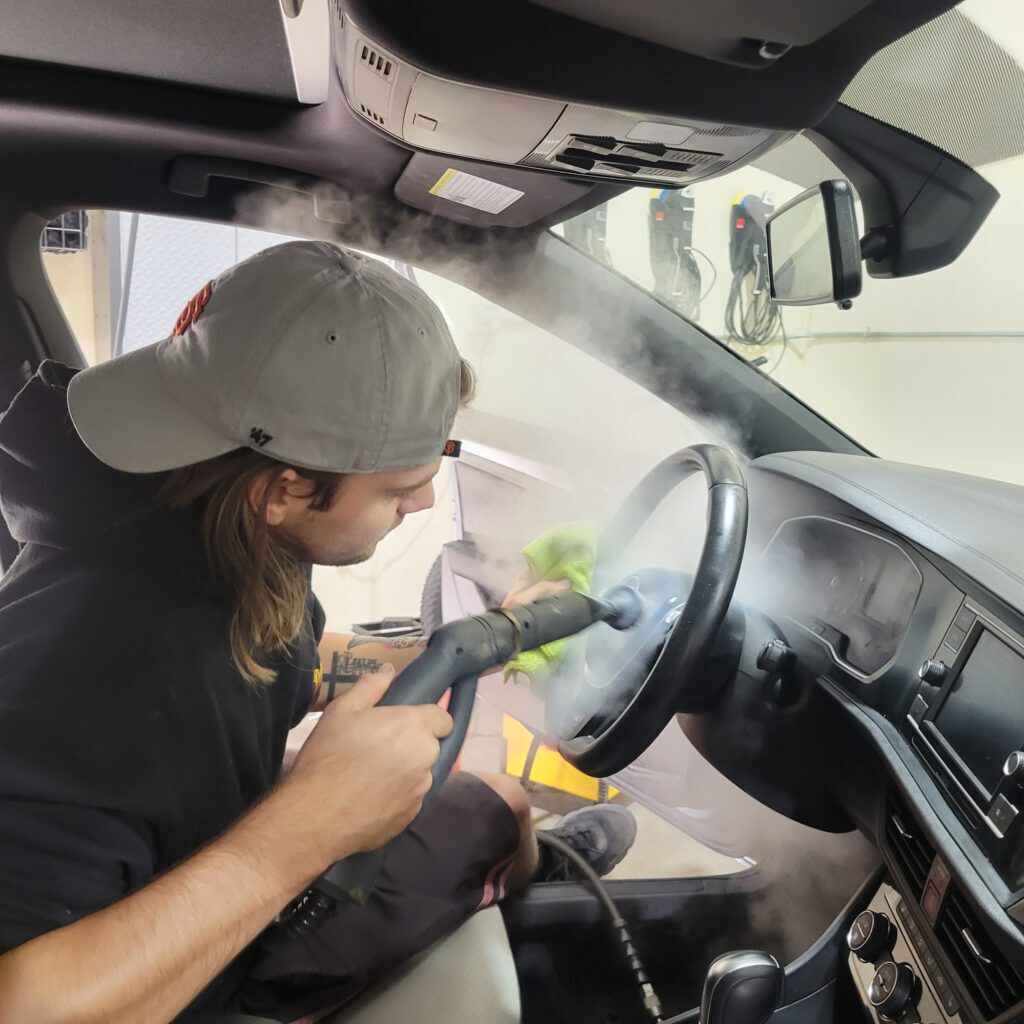 The Best Car Detailing Dana Point
Getting your car detailed is an investment that deserves the very best. That is why when it comes to choosing a car detailing service provider, you should make the right choice. You should choose a company like Detail King Express that understands car detailing and one that uses the right equipment to handle any car.
What sets us apart is that we offer truly unique and professional car detailing services. We know that different people will need a varied level of services. And so, we are versatile enough to take care of each unique need. We offer more than spray and mop cleaning services. Some of the services we offer include interior and exterior cleaning, tire dressing, bug removal, full upholstery, vent cleaning, and air sanitation.
The other add-on services you can count on us to deliver include headlight restoration, ceramic glass sealant, trim & molding restoration, debadging, and hard water spot removal.
Our professionals also understand the recent developments like the usage of eco-friendly cleaning. And that is the one area you can count on us to deliver on, alongside using hand and machine washing. We also use steam cleaning to deliver advanced results in your cleaning needs. Kindly visit our car detailing page if you are looking for the best service.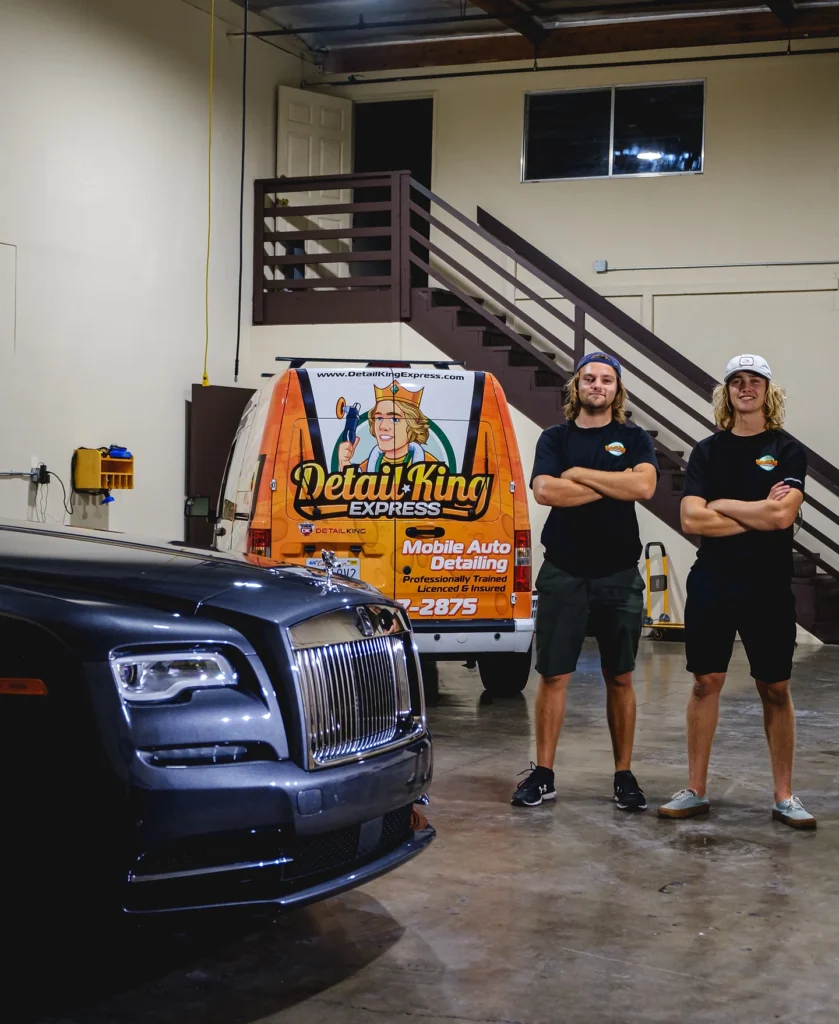 Our trained detailing technicians have been certified by the Detail King Auto Detailing Training Institute in Pittsburgh, PA. Having a professionally trained detailing technician care for your car really matters especially with today's vulnerable clear coat paints and luxurious and delicate car interiors.
Zach Youngquist, President of Detail King Express, is a certified trainer for Detail King Auto Detailing Training Institute and will be the technician servicing your vehicle in Orange County. We only use filtered water, this will help assure that hard water spots will not accumulate on your vehicles surfaces.